Basic Life Support - Healthcare provider
BLS
Bls Provider ( 4 Hours )
Course Fee: $60.00 (includes HST)
Sunday August 1, 2021 10:00 am to 2:00 pm Course # c-714111
Sunday August 29, 2021 10:00 am to 2:00 pm Course # c-714112
Sunday September 12, 2021 9:30am to 1:30pm Course # c-717253
Sunday September 26, 2021 9:30am to 1:30 pm Course # c-717254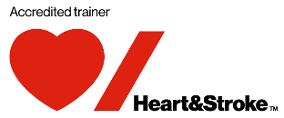 BLS Provider
Approximate Course Lengths: New Provider 4hrs, Renewal 2hrs 30 mins
Basic Life Support is the foundation for saving lives after cardiac arrest. It is designed for healthcare professionals and trained first responders who provide care to patients in a wide variety of settings, and teaches both single-rescuer and team basic life support skills for application in pre-hospital and in-facility settings.
The Heart and Stroke Foundation BLS course offers: The latest resuscitation science for improved patient outcomes realistic scenarios, simulations and animations depicting rescuers, teams and patients Course and content flexibility for Heart and Stroke Foundation instructors and students, including adaptability to local protocols
To register for one of these courses please note the course code number and click on the red button below.
Contact us if you would like to book a private class.
We can book private classes for your group in our office or,
we can also provide On-Site Training at your location.
Class sizes vary by course.
TM The heart and / Icon on its own and the heart and / Icon followed by another icon or words are trademarks of the heart and Stroke foundation of Canada used under license.
© Copyright Beat 2 Beat Training Associates 2017 -2021