COVID-19
We have resumed our in person classes while conforming to the current social distance considerations. We are committed to working collaboratively with participants to meet their educational needs in the coming months. We sincerely hope everyone stays healthy and safe during this trying time. Please see our Covid-19 Policy page for more details.
First Aid/CPR, Trauma, ECG & Advanced Life Support Training
Cardiac Arrest happens every 12 minutes in Canada and 70% happen in the home. New research released May 21, 2019 shows women are less likely to survive an out-of-hospital cardiac arrest than men. CPR quality and early defibrillation are key to improving these outcomes. Accidents happen every day. Let us teach you the skills you need to be prepared to help save a life. We specialize in small group training to help meet your individual learning needs. Our focus is on ensuring you are able to perform the skills correctly. Visit our links page for access to this latest research.
About Us
Beat 2 Beat Training Associates is a group of emergency personnel dedicated to delivering quality educational experiences. In our courses, we maintain a small group model to maximize interaction between participants and instructors while maintaining a relaxed learning environment. We can also provide on site training for your larger private groups. Our advanced life support & trauma classes are conducted by a group of local professionals with decades of hands-on experience.
Our Standard First Aid / CPR and Emergency First Aid / CPR courses meet the WSIB and Federal legislative requirements. We carry First Aid and resuscitation kits & supplies which meet provincial legislative requirements.
See our services page for mask-fit testing information.
Course Registration
To Register for one of our Heart and Stroke Foundation course offerings, click on the link below each course page to be taken to the Heart and Stroke Foundation Portal. Use the supplied course number to register for the class. Once you log into the Heart and Stroke portal use the Find a Course option and enter the course code number in the search box. Be sure to include the C- when entering the course code in the search box. When we receive verification of your registration and payment we will email you a pre-course information document.

Please contact us to setup a private course session for your group! Class size requirements vary by course.
To Register for one of our Cardiac courses please email us or use the form under our Contact tab of this website.
Course Fee Payments
Payment can be submitted by e-Transfer to beat2beattraining@gmail.com or by purchasing the appropriate course selection in our e-store here. If you choose to use the e-Transfer option, please set the transaction password to B2Bcpr to avoid any delays in processing your registration.

To ensure your reservation in the course we ask that payments are submitted within 72 hours of registering for one of our course offerings on the Heart and Stroke Foundation portal. Roster spots are limited, therefore any unpaid registrations or participants lacking the required certifications may be removed to allow others to register.

Please help us and other course participants in keeping our classes Scent Free.
Cancellations, Transfers and Refunds
Beat 2 Beat Refund Policy for Heart & Stroke classes.
All course fees submitted are subject to a 10% non refundable fee up to 4 weeks prior to course date.
From 4 weeks to 14 Days prior to the course date the course fees are 25% non refundable.
Within 14 days of the course start date, all fees are 100% non refundable.
Rescheduling requests for any of the Advanced Level courses (ACLS, PALS, PEARS and Cardiac courses) are subject to a Transfer fee of $75.00.
Transfers are limited to only 1 transfer per participant into the next available course.
No refunds or course transfers will be processed for participants within 7 days of the course start date or for those who do not show for their scheduled course.

Any Participant that has to be removed from a course roster due to any missing course prerequisites will be processed as a cancellation.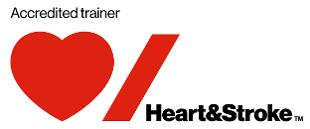 ™ The Heart and / Icon on its own and the heart and / Icon followed by another icon or words are trademarks of the heart and Stroke Foundation of Canada used under license.
© Copyright Beat 2 Beat Training Associates 2017-2021